MARIA FARERI CHILDREN'S HOSPITAL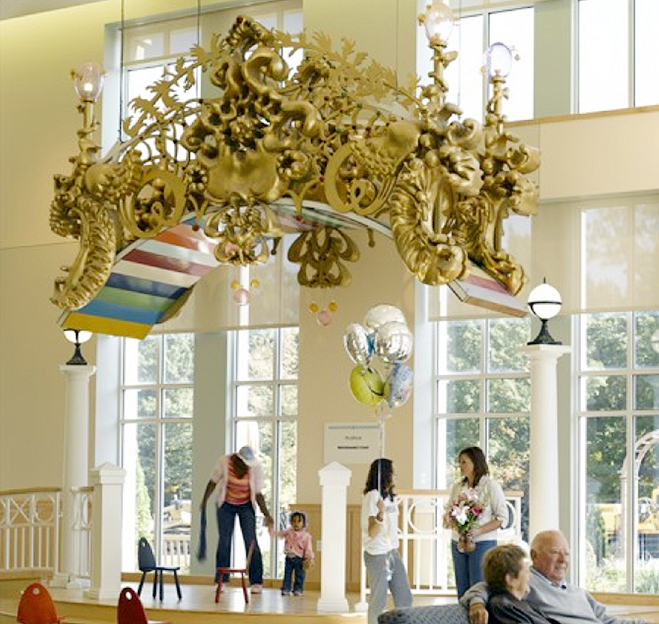 CLIENT: WESTCHESTER MEDICAL CENTER
PROJECT: Maria Fareri Children's Hospital
DESIGN: NBBJ
ARTISTS: Collection includes artwork by Rachel Feinstein, Yoshitomo Nara, Chris Ofili and Vito Acconci
ROLE: Curator of collection and special program events
DATE: 2002-2004
PROJECT SUMMARY:
The vision for the art program was to set new standards for the role that art can play in the healing environment, and includes the art of some of the most exciting contemporary artists, both emerging and of international renown. SRFA:
Developed art program concepts for "special features" throughout the hospital facility and campus;

Established an advisory committee of local collectors, art professionals and hospital stakeholders;
Collaborated with Director of Development to prepare materials for presenting donor recognition opportunities;

Conceptualized theme for special benefit auction of artist-designed birdhouses to support hospital's art program;

Structured art program to be continued by in-house hospital staff for on-going growth and development.
As part of the artists proposal stage, well known artists such as Takashi Murakami, Vito Acconci and Sandy Skoglund were asked to create works for key locations with works by Rachel Feinstein, Yoshitomo Nara and Chirs Ofili being acquired as part of the permanent collection. One of the special experiences is an outdoor, artist-designed miniature golf course, which provides patients and visitors with a variety of fun challenges as they wind their way through a functional sculpture garden. The program also includes a state-of-the-art printmaking workshop created with support from Robert Motherwell's Dedalus Foundation to provide patients and their parents with another key creative outlet that can be shared.